September 20th, 2017
Yesterday brought widespread
news coverage
of a new "study" published in
Nature Geoscience
which concludes that global warming has not been progressing as fast as expected, and that climate models might be a "
little bit
" wrong.
My initial reaction to the news was captured by my wife: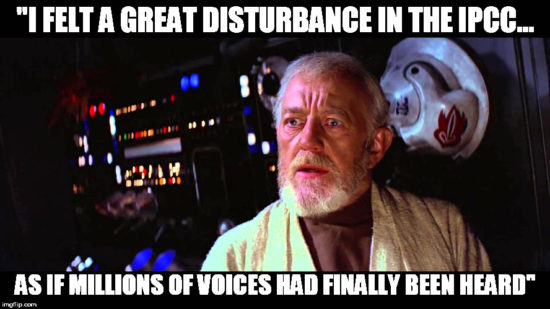 I've been thinking about what led to this turn of events. I've decided it was not some random realization by rogue elements of the Empire. It was not a tactical anomaly, but instead a strategic trial balloon of sorts.
Had John Christy or I tried to publish such a paper, Storm Troopers led by Darth Trenberth would have been quickly dispatched to put down the rebellion.
I suspect there have been years of discussions in e-cigarette vapor-filled back rooms where Empire leaders have been discussing how the increasing disparity between models and observations should be handled. The resulting new paper is part of a grand scheme that Population Bomb author Paul Ehrlich perfected decades ago.
HAVING LEFT MIT FOR THE CATO INSTITUTE, DICK LINDZEN MIGHT SPIN IT DIFFERENTLY: